Do I Need a Snorkel For My 4WD?
author:admin date:2021-09-07 10:17:21 hits:
We all know a snorkel protects your vehicle from water entering the engine when crossing rivers or high tides. And it looks cool with a snorkel installed on a 4WD. Besides, there are some other benefits of a snorkel on a 4WD.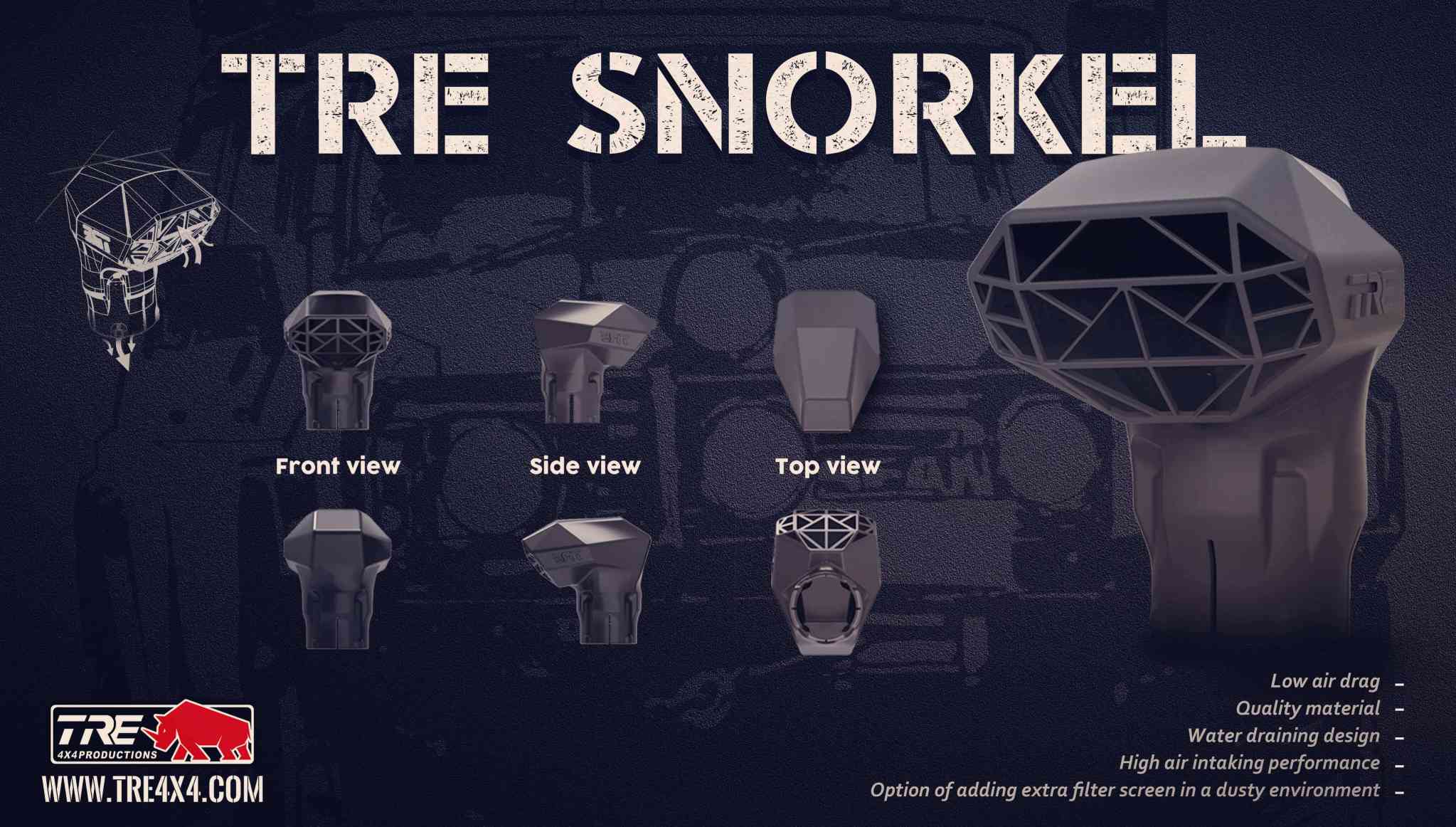 1.

Increased engine performance and efficiency.
Whether on road or off road, a snorkel can improve engine efficiency by drawing in cooler, cleaner and uncontaminated air due to its elevated position. Air that is usually taken in around the engine bay is hot and will contain particles of dirt, grease and dust as your vehicle drives. TRE snorkels are designed to increase airflow to the engine with the 'ram effect'. This means more power and performance when you really need it. Besides, comparing with some other snorkels, TRE snorkels has a lower air drag.
2.

Prevents dust from clogging the engine.
For a combustion engine that requires a mixture of oxygen and fuel, you can imagine what dust would do to the internals of your vehicle. Raising the air intake of your vehicle by fitting a snorkel is that you move the intake further from the inner guard and the dust that is produced by the front wheels. TRE snorkels offer an optional filter screen which is easy to be added or removed. This offers an extra protection in an extreme conditions of severe dusty roads. TRE Snorkels are also designed to keep any rain or moisture out with its shape and grid at the opening. water that enters travels along the air ram walls to purposely placed drain slots below, letting the water pour out before it even gets close to the engine.
3.

Increased fuel efficiency.
A snorkel helps prevent dust, water and other micro particles from entering your engine. There are various makes and models that are suited for all occasions. Installed at roof height, the snorkel can take in cleaner and cooler air which increases fuel efficiency whilst keeping your air filters clean.
4. Reduced maintenance.
Taking in cleaner air means cleaner air filters, which means less wear and tear, and less maintenance.
TRE is about to launch its new generation snorkel, made of quality compounded material to ensure a longer expected life.