WINCH
It's only a matter of time before you run into trouble when you go off the main roads and start explore.Make sure you have the right equipment to get you out of any predicament to enjoy the adventure and experience. TRE TED Winch come in all shapes and sizes, provide the best solution for every off-roader to get out of trouble.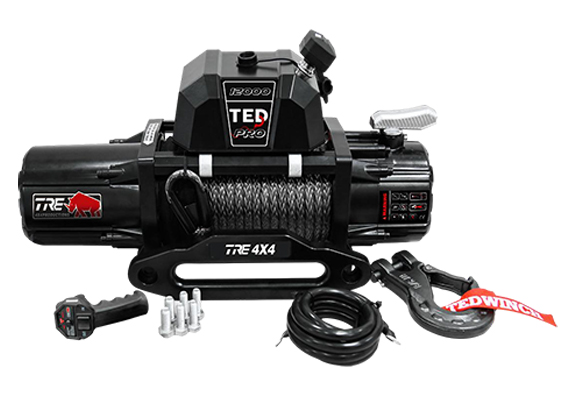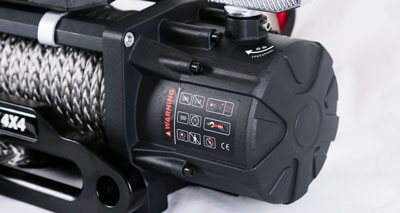 Whether it be steep trails, muddy roads, or snowy streets, you know you can depend on your truck and your driving skills to get you through. When things get extra tough, you see it not as a setback but as an opportunity to demonstrate and improve on your off-roading skills. You know that you can get through any challenge. That's why a good truck winch can be so important. By keeping a setback from turning into a major problem, truck winches equip you to get out of nearly any sticky situation.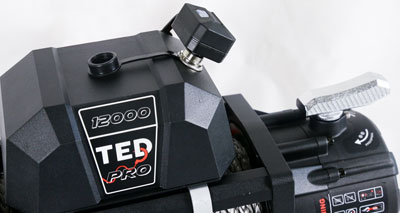 TRE TED winch is equipped with a winch motor breather, directly integrated into motor the housing. This special design is conceived from the demanding recoveries in every recovery conditions. Ultra High Molecular Weight Polyethylene Fiber is the material of the TRE EXTREME TOUGH Winch Rope. TRE winch rope is double braided construction come with 12 inner strand rope.
FEATURE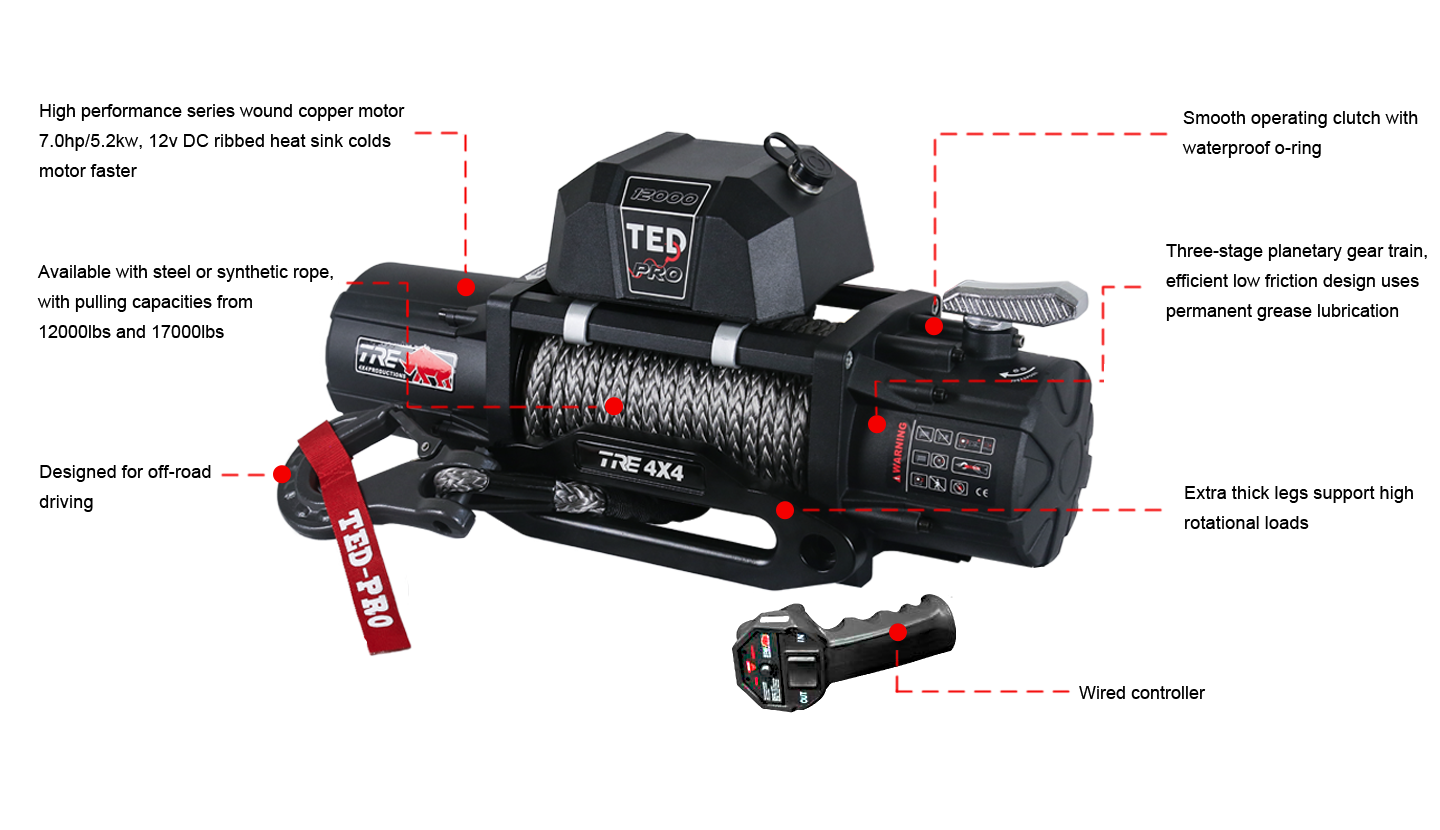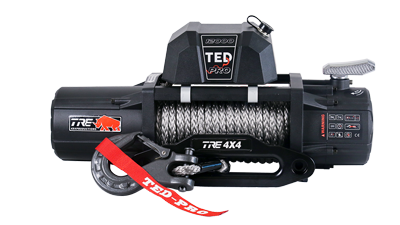 12000 LBS
Single line rated pull : 12000lbs (5454kgs)
Motor : 7.0hp/5.2kw, series wound
Control : Remote switch
Gear train : 3 stage planetary
Gear reduction ratio : 236:1
Braking : Automatic load-holding brake
Drum size : Diamater 2.5''(63.5mm)x length 9.6''(224mm)
Cable : 3/8'' (9.5mm) x 85.3' (26m)
Remote control switch : Included
Extra wireless remote : Optional
Battery : Recommended : 650CCA
Net weight : 40kgs
Overall dimension : 21.54'' x 6.3'' x 9.76'' (547x160x248mm)
Mounting bolt pattern : 10''x 4.5'' (254x114.3mm)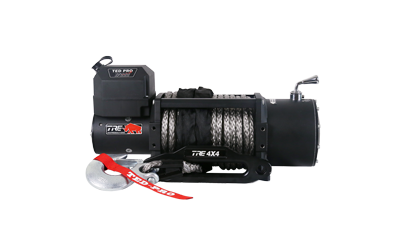 17000 LBS
Single line rated pull : 17000lbs (7727kgs)
Motor : 6.0hp/4.5kw, series wound
Control : Remote switch
Gear train : 3 stage planetary
Gear reduction ratio : 358.4:1
Braking : Automatic load-holding brake
Drum size : Diamater 3.5''(88mm)x length 8.7''(221.6mm)
Cable : 0.47'' (12mm) x 85.3' (26m)
Remote control switch : Included
Extra wireless remote : Optional
Battery : Recommended : 650CCA
Net weight : 53.5kgs
Overall dimension : 21.85'' x 7.7'' x 9.8'' (555x196x249mm)
Mounting bolt pattern : 10''x 4.5'' (254x114.3mm)