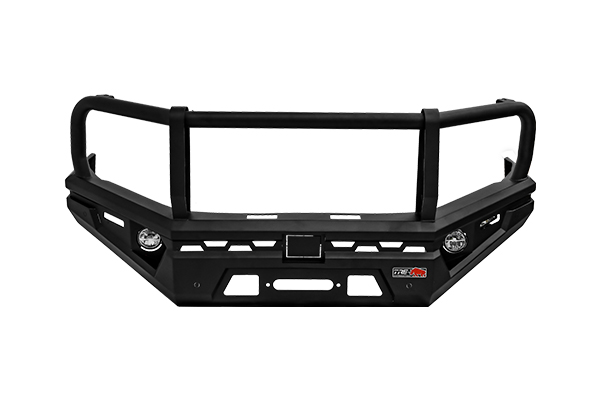 TRE ALPHA BUMPER
Introducing the Alpha Bumper, the ultimate solution for off-road enthusiasts who demand performance, durability, and versatility.
With a press-formed top bar, our bumper can mount any driving light or light bar, allowing you to customize your lighting to meet your specific needs. Our professional mounting brackets are designed to ensure that the airbag can still function properly after installation, giving you peace of mind and safety on the road.
Equipped with fog and turn signal lights, our bumper is a perfect combination of style and function. And with a bumper sensor hole reserved for most models, you won't have to compromise on safety features.
Our built-in winch tray is suitable for different sizes of winches, making it easier to install and use your winch without worrying about compatibility issues. Additionally, our airflow holes are designed to provide sufficient air to the radiator, ensuring your engine stays cool even in the toughest conditions.
For those unexpected situations on the trail, our recovery jack points are designed on both below sides of most TRE bumpers, providing a reliable and safe recovery option.
In summary, the Alpha Bumper is the ultimate solution for off-road enthusiasts who demand the best. With its superior design, versatility, and safety features, you can confidently tackle any terrain and adventure ahead.
FEATURE